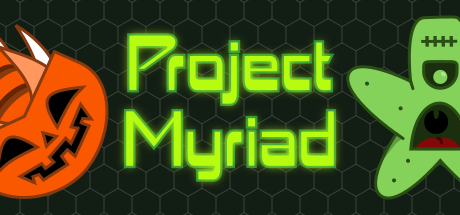 Project Myriad
Patch v1.2 Halloween Update
---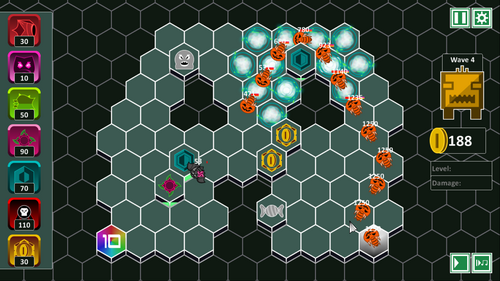 OCTOBER 17 - JUMPMENGAMINGLLC

Bug Fixes
The level tiles should now correctly display their tooltips.
New users will be able to select their language at startup now, instead of the game defaulting to Italian.
Manta Level now has the freeze tiles it was supposed to have instead of the fast ones.
Achieving wave 30 achievements will now be correctly awarded.
Navigating to a sub menu while on the options menu should no longer unpause the game.
New Content!
Themes! The themes feature is now live. If you preferred the older color scheme you can now select it. There is a more menacing looking boss to go with it.
Halloween Theme Now Available! All of the enemies have dressed up for halloween.
5 New Halloween Themed Levels

Conical Crown
Candy R&B
Spooky
Itchy Ear
Carving Time

2 New Level Tiles

Slime Tile Activate this tile and it will consume a single enemy (even a boss!) and dissolve it over time. It will then grab another one. The more health the enemy has, the longer it will take to dissolve.
Candy Tile Pay to remove this tile from the board but then it spawns a candy enemy with 7,000 health per candy you have spawned. Defeat the enemy and it will give you 500 gold!
Updates
UI Adjustments for PC I have started putting in some size adjustments, more to come.
Tweaked Swarm Level Swarm Level now has two less flier tiles. It was the ones farthest outside that seemed to make the level less fun.
Added tiles to Puddle Stomp This level just wasn't as fun and was too straight forward. Added tiles to increase mazing.
Enemy Balance Changes
Health Adjustment Easy still doesn't feel quite easy enough. Also it definitely felt like there were two games under 30 and post 30. I made some adjustments to try and even that feeling out. Shouldn't effect gameplay too much except maybe on hard mode.
Files
Project Myriad (windows)
23 MB
Oct 17, 2018
Project Myriad (android)
28 MB
Oct 17, 2018